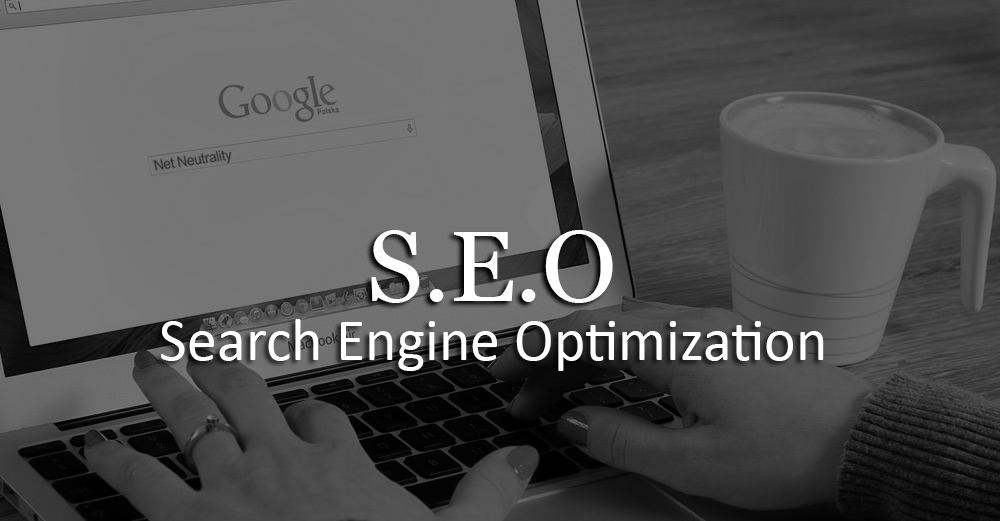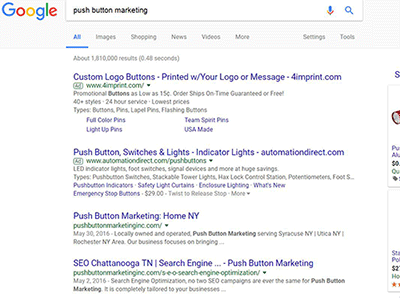 S.E.O stands for "search engine optimization". It is the process of getting traffic from the "free", "organic" or "natural" listings on search engines. All major search engines such as Google, Yahoo and Bing have such results, where web pages and other content (videos or local listings) are shown and ranked based on what the search engine considers most relevant to users. This is important because if some one is looking for what your business does in the area you do it, you want to be one of the first options. Showing up naturally in the organic listings should not be confused with the sponsored ad section. Payment isn't involved to show up organically, as it is with Paid search ads.
Finding your Target Audience
When searching for your target audience, you need to focus your time, money and energy to ensure that you get the best results. Push Button Marketing Inc will distinguish the right statistics when converting website visits to sales. You increase your chances of reaching clients when you define and revamp audience profiles by including what and how they are searching for via search engines such as Google, Bing and Yahoo. At Push Button Marketing, the only thing more important than rankings is your return on investment.
On-Page SEO
Any good web team, including Push Button Marketing, should be building and launching your website with good, solid on-site SEO principles. On-page SEO is the sound practice of developing good code, tagging content correctly, and building strong structure so that when Google or other search engines come to your site, they can easily read the content.
Keyword research, analysis, and recommendation

Title Tag analysis and recommendation

META Description analysis, recommendation, and creation

Image Alt Tag analysis, recommendation, and creation

Header Tag analysis, recommendation, and creation

Keyword Density analysis of current and future site content

Overall understanding of the competition and strategy recommendation
Off-Site SEO:
Off-site SEO is where the SEO battle is won. The main weapon used in Off-site SEO is building authoritative links to your site, also known as backlinking. Link building has many different facets that affect the power of each link source. Google wants to see highly true sites that they trust to link to your site.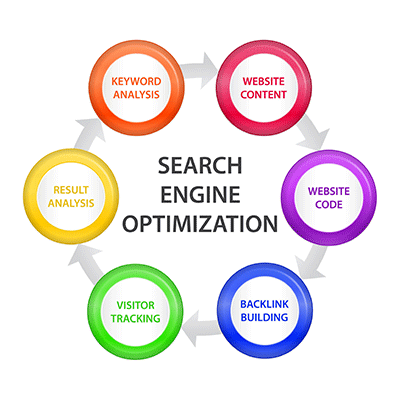 Getting Ranked
Unfortunately just being ranked at the 101st position in Google, Bing, or Yahoo will not drive much traffic to your business. Your audience is not diligently searching the deep results to find your website. If you are not being found in the top results, you're not driving traffic. Another goal of each and every SEO Campaign is to help position your website in the top rankings so your found by your audience.
Tracking your Results 
When Push Button Marketing builds your campaign, our goal is to make sure you get found on the first page of Google, Yahoo and Bing. So how could we brag about our results if we didn't offer you free reporting!
Knowing what your investment is  generating for your business is key in determining our value to your business. That is why we want you to make sure you see exactly what all of our hard work is doing. We provide very complete and accurate reporting, so at the end of the day you can focus on running your business and we can focus of bringing you new business!